While 2020 is unlikely to be the white Christmas we all long for - weather forecasters predict that strong winds and heavy rain from the North Pole will batter the United Kingdom in the coming days. With temperatures set to plummet, it is important that truckers prepare to safely navigate the country's icy roads.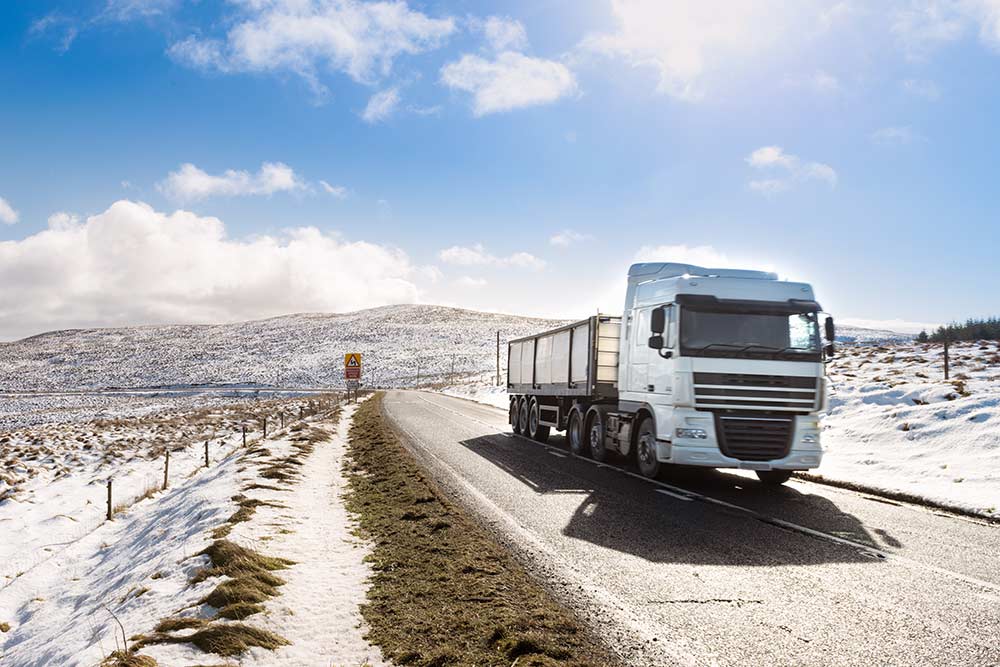 Being a big rig driver is extremely challenging during the winter months – poor visibility and reduced traction can be an incredibly dangerous combination. However, there are ways to avoid the potential hazards and arrive home safely for the holiday season. Here are our top 5 winter driving tips for truck drivers that can help you stay safe this winter, in no particular order! 
1. Inspect your vehicle
Before you embark on a perilous winter journey, it is crucial to assess that your truck is fully roadworthy. Thorough walk-around checks should be conducted daily, inspecting the tyre pressure, engine oil and antifreeze levels fastidiously prior to setting off on Britain's motorways.
It's particularly important to pay close attention to your trailer tyres, especially when you've just hooked up to a trailer. Make sure the wheels are turning – decipher which ones are problematic and consider applying more air. 
You can use TrackTrans TMS to enhance these checks considerably. With a simple-to-use VOSA compliant checklist, drivers can start each shift gathering all of the necessary information. The details are subsequently uploaded to the cloud, allowing management to access them anytime and ensure that the fleet is good to go. 
2. Be prepared
Roadside truck breakdowns occur every 10,000 miles and there is nothing worse than being stranded in a remote area during the winter. Keeping warm should be your priority, therefore it is important to store a thermal sleeping bag in your cabin and, while driving, keep your coat on or near by just in case there is an emergency. You never know if something is going to happen that will force you to get out of your truck quickly.
A multi-purpose survival kit will also keep you prepared for most scenarios. Always carry a flashlight, shovel, matches, traction devices and keep a candle in your truck with a metal coffee cup. As a worst-case scenario, this will be ideal in providing heat inside your truck. While it won't keep your whole body warm – it should be enough to keep your hands from freezing if you have no other options.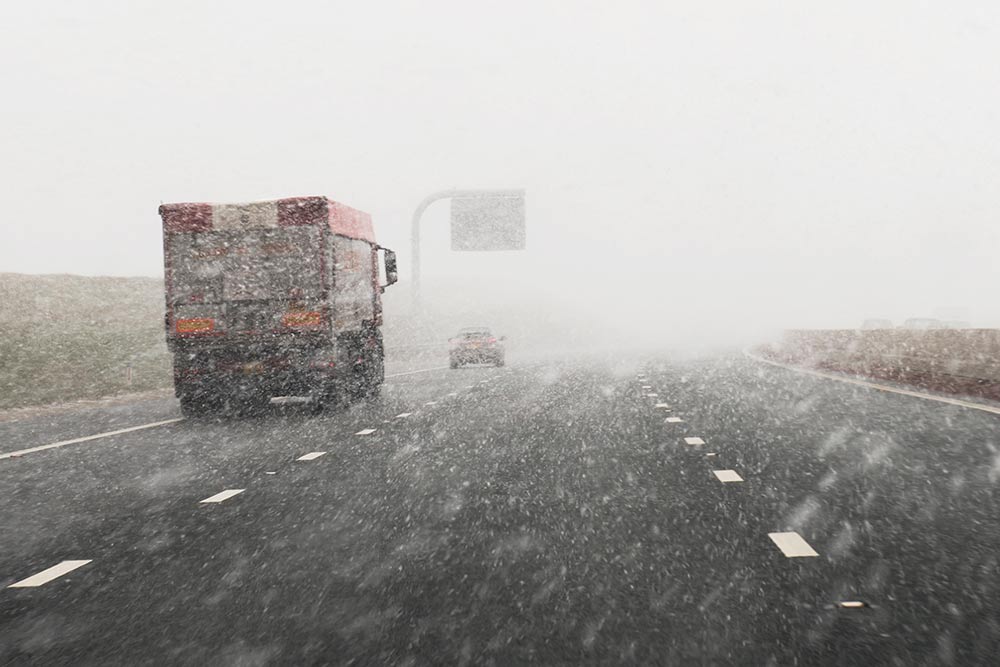 3. Let there be light
The visibility can be quite poor in inclement weather conditions – so, don't forget to turn on the headlights of your truck. This will allow the other drivers to see you and maintain a safe distance from your vehicle.
Special care must be observed when using headlights in foggy conditions. High beams have the tendency to reflect off water particles in the cloud vapour that makes up fog, thus making it difficult to see. In this situation, truckers should instead use their regular, low-beam headlights or fog lights, if the vehicle is equipped with the latter. 
In snow and rain, the rule is a little more elastic. The human eye is decent at registering changes in light – but having a great deal reflected back can obscure your field of view. You want the light extending out, not working back into your eye. In these situations, you should trial both the high and low beams – then decipher what gives you the most clarity. 
4. Don't travel close to other drivers
Did you know that the stopping distance on a wet road is twice the normal stopping distance – and on icy roads, it's almost 10 times? This further accentuates the importance of accelerating and braking slowly during the winter months. If your truck is not equipped with an ABS braking system, lightly pump the brakes when you need to slow down.
Traffic seems to move in 'packs' on the motorway. Safely distance yourself from the pack and travel alone, with the goal being to maximise the space around your vehicle. Leave plenty of room between your lorry and the vehicle in front of you so that you can securely move out of harm's way in case of unpredictable situations.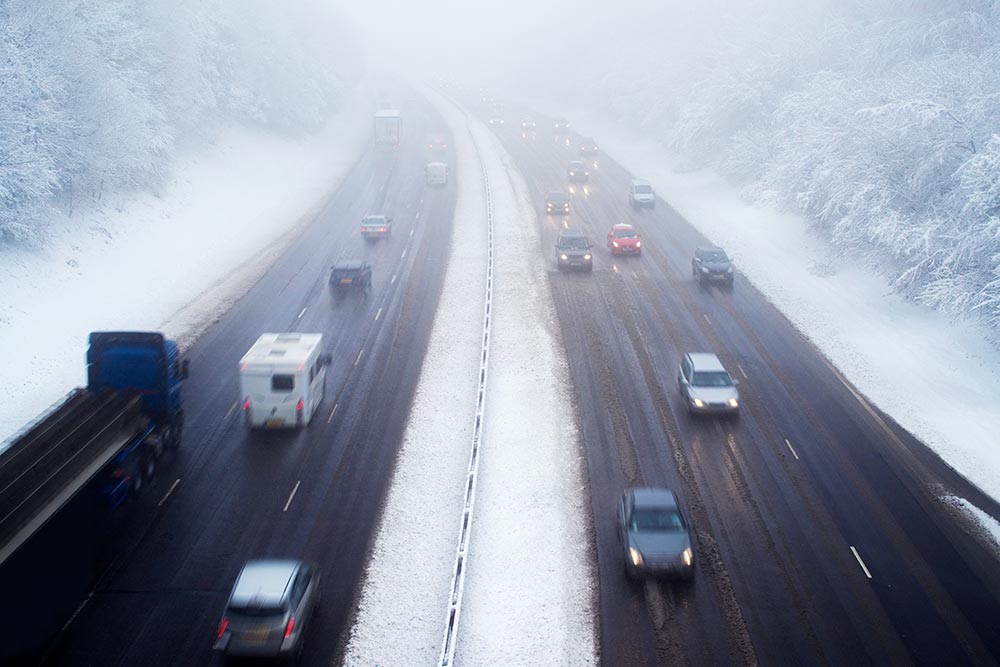 5. TrackTrans' Sygic Mapping
Road accidents increase by 20% during the winter months, hence why it is important to be fully aware of potential motorway congestion and decipher alternate routes to bypass the hold-up. Sygic mapping, which comes integrated with the TrackTrans app, provides live traffic information complete with faster route suggestions when there are delays on your standard route due to traffic jams or road closures. 
Drive with turn-by-turn voice guided navigation, know which lane to stay in and which exit to take thanks to lane assistant and junction views. The app also ensures that you stay as safe as possible with speed limit notifications and safety warnings. 
Try our free demo and get started with TrackTrans today!