Life on the road isn't easy. Whilst enduring long hours behind a wheel, one can't help but slip into a parallel dimension in which your perception of the road changes. You think differently, survive on microwavable food and measure trips not in days or miles - but when you need to be somewhere.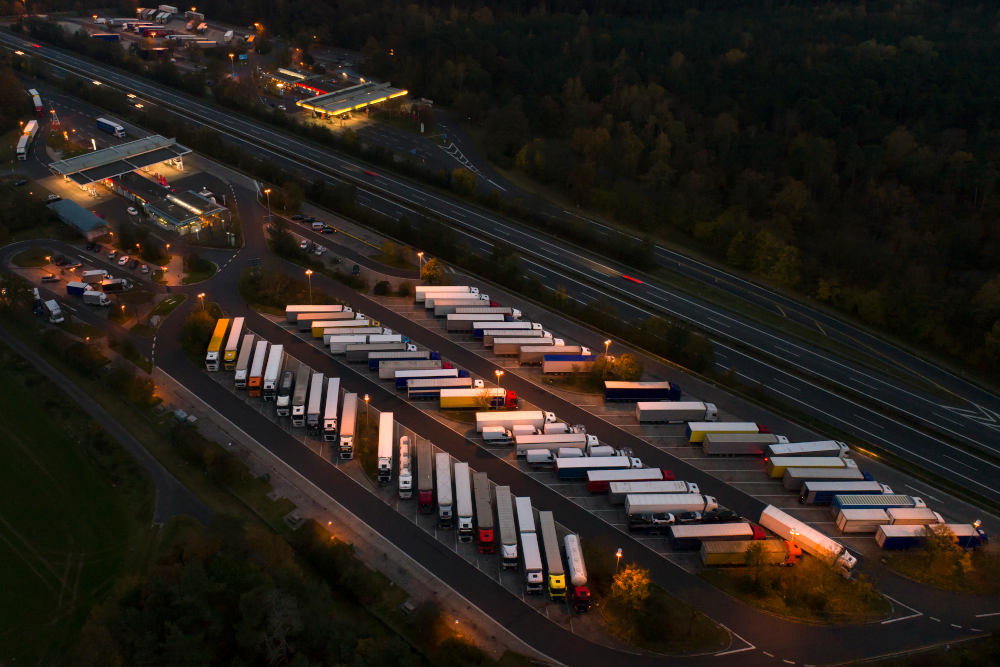 Sometimes you need a moment to pause, stretch your legs and relax. While many locations in the United Kingdom are lacking in facilities for drivers, there are some amazing truck stops in Britain. In this week's blog, we're taking a look at the top 5 truck stops in the UK for you to stop at while on your next job.
5. Route 74 – Lesmahagow M74 Junction 10
Located in Lesmahagow, South Lanarkshire, Scotland – the Route 74 Truckstop is around 26 miles south of Glasgow off Junction 10 of the M74. This site has parking for up to 150 trucks that can be pre-booked online, and has a host of great facilities, including: 
Male and female shower facilities open 24 hours
Restaurant serving hot and cold food
Shop offering travel essentials and snacks
Cash Machine (available 24 hours)
Fully automated truck and coach wash, as well as drive-through hand wash
Site-wide Wi-Fi 24/7 on-site security guards
4. Tebay Services – M6 Junction 38
Opened by local farmers back in 1972, Tebay Services was the first family run motorway service station in the UK. It is an ideal pit stop for those sailing from the port of Heysham to Dublin who fancy a top quality, home-cooked, locally sourced roast dinner. 
Alongside the 30 seat café, this truck stop has a variety of other fantastic amenities, including:
Farm shop
Bar
24 hour CCTV and a patrolling HGV warden
Showers, fuel and a cash machine available from as little as £18 for 24 hours
Tebay was also awarded the "Park Mark Safer Parking Award", so your HGV should be safe in their parking area.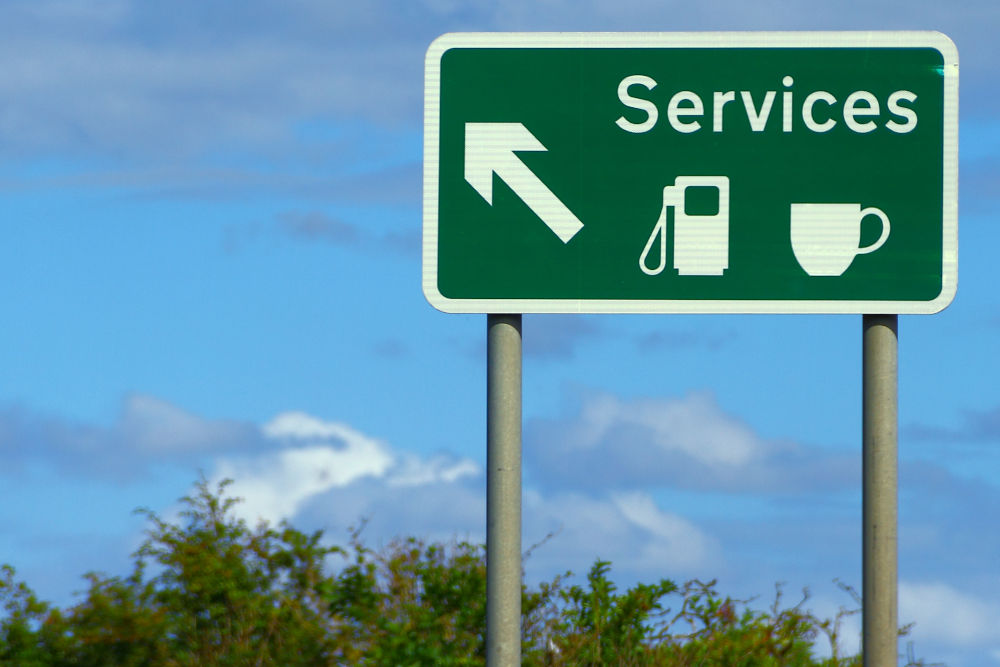 3. Ashford International Truckstop (AIT)
Named 'Truckstop of the Year' in 2016, Ashford International Truckstop is one of the biggest and most well-known HGV service areas in the country. You can feel completely at ease leaving your load unaccompanied as the security is extremely tight, boasting 50 motion sensor infra-red CCTV cameras throughout the site, 12 foot barbed wired fences and 24/7 security patrols.
The location aims to create 'a home away from home environment' and the wide range of facilities available make it one of the best stops in England. These include:
24/7 Shop
24/7 Restaurant
24/7 Bar
Fitness Gym and Weights room
Shower and Toilets facilities
Launderette Facilities
Lounge and TV area
Wifi Comfort room
Gaming area
Cinema TV
Cash Machine offering Sterling and Euros
Free WiFi
In close proximity to the Folkestone terminal and the port of Dover, this location sees a heavy volume of traffic, and despite offering room for 389 vehicles – these spaces fill up fast. The best way to ensure a place to park is to download their mytruckparking.com app from Google Play and the App Store.
2. Chippenham Pit Stop – Wiltshire M4
Winner of Truckstop News' "Best Facilities Award" – it's not hard to see why Chippenham Pit Stop is so highly regarded amongst drivers. This family run business offers everything in one convenient location. Their facilities include showers and toilets with underfloor heating, along with an all hours filling station for cardholders if you're running low.
With overnight parking for up to 85 vehicles, Chippenham Pit Stop also has a bar serving local real ale, large flat screen TVs and even an outdoor gym for truckers who want to stay fit. The site even features evening exercise classes and a barber shop – making it a one stop shop for drivers out on the road.
1. Formula Services – Ellesmere Port M53
While it's definitely a close call – the best example of everything a modern truck stop should be is undoubtedly Formula Services. Just round the corner from Birkenhead and Liverpool ports, this site offers the perfect location to stop before jumping on a ferry.
With everything and the kitchen sink (quite literally) – this location is specifically tailored to meet the requirements of all truck drivers. It is always immaculate with a striking red colour scheme that alludes to a Ferrari – this truck stop is particularly inviting to fans of Formula One!  
From all of the necessities, including a truck wash and fuelling station – to a plethora of leisure activities, Formula Services has everything a trucker could need after a hard day on the road. If you find yourself in the area, be sure to try their fantastic fitness suite, games room and, best of all, free massage chairs! 
Formula Services boasts state of the art parking, with space for up to 110 vehicles – it is also one of the safest stops in the country. A staggering 36 cameras are in constant operation, along with a 24 hour manned patrol, barrier entry and exit only – all situated within a discrete location. Overnight parking costs from £19.95 a night, and includes full access to the site's facilities.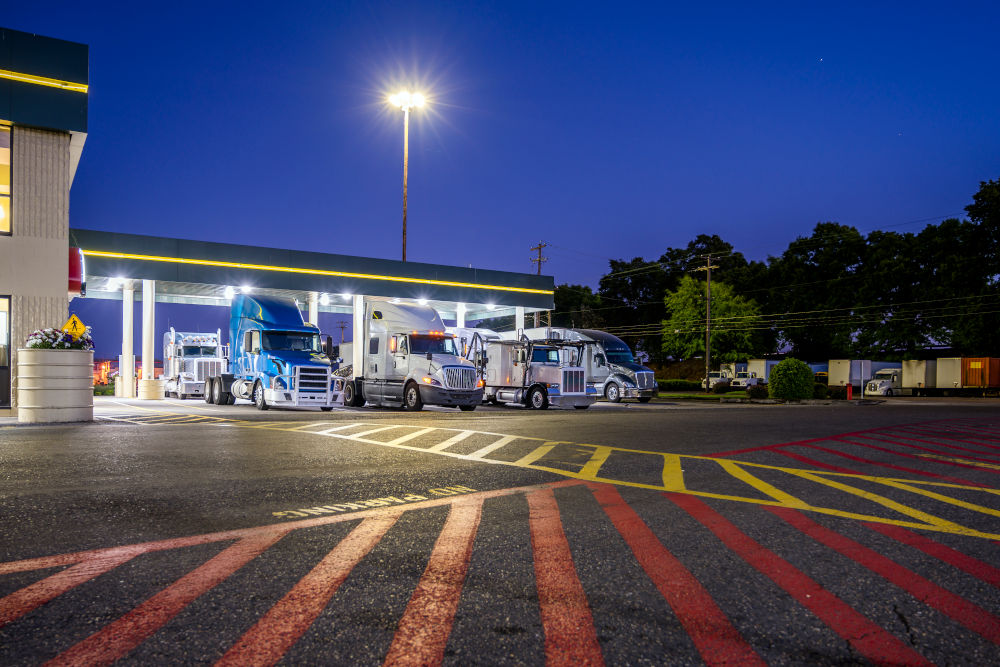 TrackTrans
Rest breaks are an absolutely crucial part of a HGV driver's job. Unlike working in an office, you can't just 'work through' lunch and leave early. Part of being a HGV driver is adhering to a strict schedule of breaks – and resting for certain periods of time to ensure you are fully recovered and driving safely. 
With another nationwide COVID-19 lockdown, Brexit impending and the mass distribution of a potential vaccine – forecasts for the coming months predict chaos for UK logistics sector. Driver facilities will therefore be incredibly important as unprecedented traffic overwhelms Britain's motorways near key port locations. 
At TrackTrans, it's our mission to make life on the road easier for hauliers! Offering a powerful, cloud-based, easy-to-use solution – our comprehensive portfolio of applications covers transport management, electronic proof of delivery (POD), warehouse management, vehicle tracking, navigation and traffic alerts. Try our free demo and get started today!