Dealing with traffic, tight deadlines and long solitary hours in a confined cab can be incredibly taxing for truck drivers.
Many customers neglect to consider the human behind the wheel and simply want their delivery at the dock on time – therefore, it's important that drivers learn how to handle stress and take it in their stride. 
Trying to concentrate and drive safely might seem impossible when you're barraged with distractions throughout the day – however, there are ways to relax without wholly diverting your attention from the job at hand. In honour of Stress Awareness Month, we've put together some tips on how you can try and manage your stress whilst on the road. 
1. Eat healthy
Maintaining a healthy lifestyle as a HGV driver can be challenging. Without access to a kitchen full of fresh groceries, preparing healthy meals is difficult and, of course, passing hundreds of roadside fast-food restaurants can tempt even the most resolute of truckers. 
A healthy diet has been shown to help counteract the effects of stress by boosting the immune system and lowering blood pressure. By making small modifications to your diet (like no bun on a hamburger) and bringing your own nutritious snacks can make a huge difference. Remember to drink plenty of water whilst eating your healthy refreshments – staying hydrated further prevents stress and fatigue.
2. Get out and stretch
It's fair to say that sitting for long periods of time can be detrimental to your physical and mental health, therefore, it's important to move your body around to help clear your head. Even 3-5 minutes out of your cab for a brief stretch will help loosen your muscles and relieve pain. 
Exercising as much as possible often helps to relieve discomfort and improve energy as well as strength. During breaks, a short walk is an excellent way to clear your mind and balance stress levels.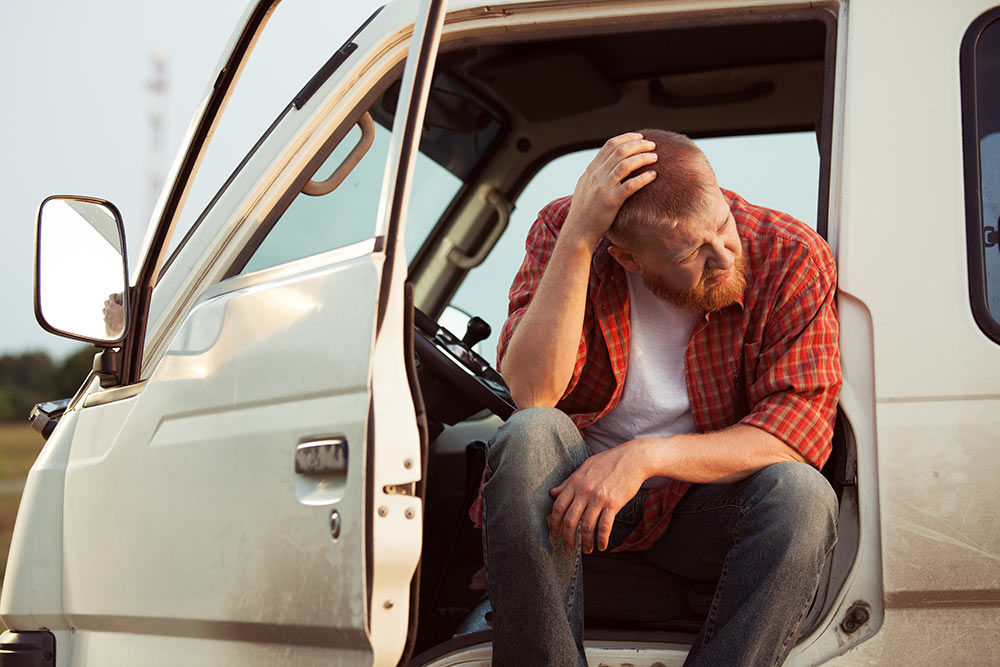 3. Meditation
Meditation isn't just for the organic chai latte drinking hipster – it is actually one of the most effective ways to bust stress and has been proven to reduce anxiety levels in over 60% of people. 
The common misconception is that you have to be in a specific environment and meditate for a long period of time to enjoy the benefits – in actuality, simple breathing techniques are forms of meditation and can be done anytime or anywhere.
The most basic exercise is to inhale from your nose for four seconds, hold your breath for two counts and then exhale through your mouth for four or six counts. Repeat 5-10 times to clear your head and create instant relaxation.
There are plenty of apps online that will allow you to delve deeper into the practice. These guided meditations are great to explore during your breaks – some of which are even tailored to certain moods or issues so you can find the experience you want.
4. Music/podcasts
Of course, there's no better way to relax than to listen to some of your favourite music, a podcast or an audiobook. When selecting a driving playlist, opt for soothing tracks that will help you take your mind off a stressful driving situation – but be sure to avoid anything that will make you sleepy!
Constantly monitoring the road and traffic can take a considerable toll on your nerves – hence, we recommend listening to a podcast or an exciting story to help your mind concentrate and release anxiety. Some drivers may prefer to listen once the workday is done. 
Once you've parked for the night; get comfortable, close your eyes and press play. Immerse yourself in a historical account, science-fiction story, crime thriller or something light and fun. You can find any number of apps for your phone or tablet to play the audiobooks.
5. Sleep
Finally, there's nothing more important to one's wellbeing than sleep. Slumbering for at least 7-9 hours a night is critical in reducing stress as well as increasing general wellness and health. Keeping your room dark and cool, shutting off appliances before bed and following a nightly routine will help you achieve good quality sleep.
TrackTrans
Life on the road is undoubtedly stressful – but the good news is, communication with your operations team doesn't need to add to the burden. Modern and flexible; TrackTrans' best-in-class Transport Management System supports both the operations team in the planning process and provides seamless communication with drivers as well as clients. Our software automatically keeps everyone in the loop and up-to-date no matter what challenges are thrown at you!
Try our free TrackTrans TMS demo and get started today!